Stuff the Bus - Presented By Fulton Homes
June 12, 2023 through July 2, 2023
|

Outside Food Court Entrance
---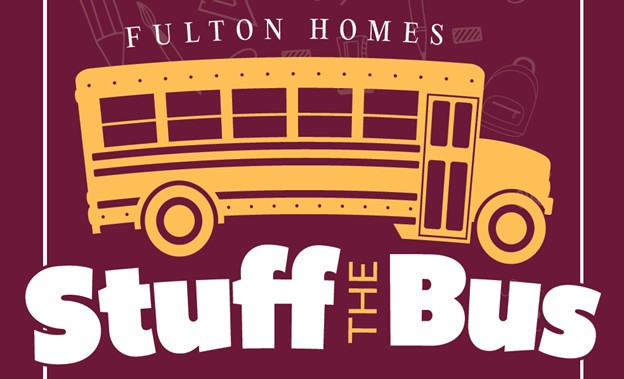 Fulton Homes is our valued partner in this year's
Stuff the Bus Challenge!
We need your help donating school supplies so we can provide at least 100 kids from Boys and Girls Club of the Valley with all the tools they need to go back to school!
Join 98 KUPD at the Big Yellow School Bus on June 24th and July 1st

Find your favorite DJs and crew from Noon - 2pm at the school bus located outside the food court entrance.
The first 100 people to drop off school supplies will get a choice of a $10 SCHEELS Gift Card OR One Pass to the Crayola Experience ($25 value).
WHERE TO DROP SUPPLIES ON OTHER DATES:
Outside of the radio stations dates, you can come ANYTIME to the bus and call mall security at 480-812-8783. They will come and get your donations from you and make sure they are locked up!
Or, you can drop them off at the mall management office or security office, located down the hallway in the food court between PokiLuv and FYE.
If you have any questions about where to drop supplies, call security at 480-812-8783
DONATE ONLINE:
If you can't make it in person, please consider donating online to Boys & Girls Club of the Valley:
SCHOOL SUPPLIES NEEDED:
Backpacks
Reusable Water Bottles
Loose Filler Paper, Spiral Notebooks
Colored Pencils and Markers
Ballpoint Pens, No. 2 Pencils, Highlighters, Erasers
Rulers, Glue Sticks, Pencil Sharpeners
Also, THANK YOU for your support:
OceanX Adventure
Now through June 18, 2023 | Crayola Experience Studio
Submerse yourself in FINtastic fun with OceanX! Explore the superpowers of awesome ocean animals AN...
Summer Family Fun
Now through June 23, 2023
Get Ready for Summer Family Fun! Bring your kids for FREE family fun, just outside our food court e...