Kubota Machine Adventures
---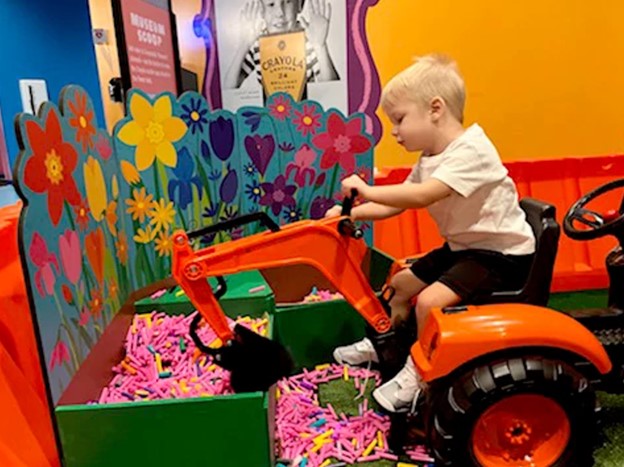 Buckle Up! Kubota Machines are Taking Over Crayola Experience from now until Jan 9th, 2023.

Kids will scoop, haul, build and color the town orange featuring full- and kid-sized Kubota machinery and crafts to add their creative touches to Crayonville.
Event Info:

"Kubota Machine Adventures" will have kids (and kids at heart) engaging in more than 20 hands-on activities featuring Kubota's iconic orange equipment—including an excavator, tractor, and UTV—across Crayonville. Throughout the immersive experience, families will discover how the human power of creativity and the machine power of Kubota equipment together can drive innovation to build better and stronger communities.

Like all things Crayola, the community of Crayonville runs on children's creativity and imagination. To add their own creative touch to the transformed family attraction, kids will:
Create their own Kubota Machine Adventures I.D. badges
Hop on a kid-sized tractor to dig Crayola flower beds
Build a rainbow high rise out of crayon box "bricks"
Snap photos with REAL Kubota equipment
Scoop, load and dump at a 3D projection sand table
Transform crayon shavings into "grass clippings" art
Name and wrap their own Kubota-inspired crayon
Engineer their own ultimate Kubota machine of the future and more.
MORE INFO
Salvation Army Angel Tree
Now through December 21, 2022
Help make the season merry and bright for those in need. Pick a tag. Buy a gift. Earn your Wings &a...
Polar PJ Party
November 29, 2022 through December 20, 2022
Wear your favorite holiday PJ's and join us at 10:30AM for a FREE party every Tuesday just outside ...