Crayola Experience and OceanX Team Up for FIN-tastic Fun
---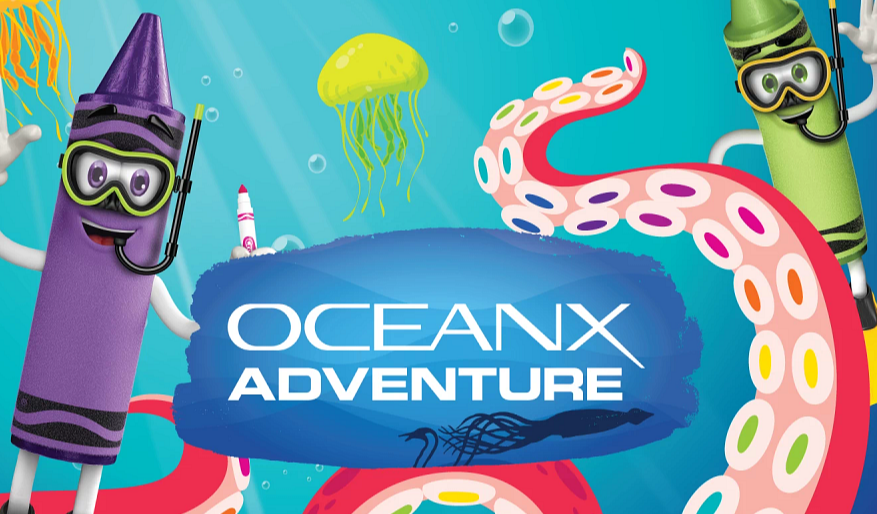 Dive into an ocean adventure packed full of aquatic-themed attractions and activities at Crayola Experience Chandler. Arizona's most colorful family destination has partnered with OceanX, a leading global non-profit ocean exploration organization, for a tidal wave of color and creativity that starts Saturday (11/20) and runs through Jan. 3, 2022.

The deep sea, interactive experience is the first ever takeover event of the Crayola brand's attraction and is touring nationally to Crayola Experience locations through summer 2022. Featuring hands-on activities and immersive videos, the collaboration aims to creatively inspire the next generation of ocean explorers through creativity, imagination and wonder.

The limited-time adventure submerses visitors in a colorful, aquatic-themed experience where kids and adults alike will explore the wonders of the deep blue with a splash of color.

The transformed attraction puts children in the front seat of exploration as one of the OceanX crew members in search of the elusive giant squid. With mission log book in hand, children will journey through the sea kelp and hammerhead sharks to:
take a "underwater" photo in a Crayola OceanX sub;
sculpt their own ocean creature and place it on a 3D mapping table;
learn about undersea wonders and conservation efforts;
view sea creatures in their natural habitat through colorful "portholes" featuring OceanX Media content;
help build a "coral reef" made of recycled marker caps;
and ultimately come face to face with the Giant Squid!