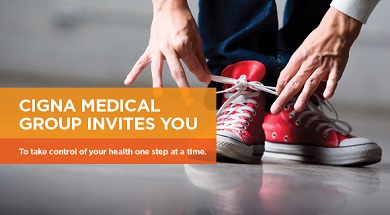 Walk With Us!
Now through August 15, 2017
The event may be over, but Coach by Cigna is still here to help you stay active, stay motivated and stay healthy.
With Coach by Cigna, you'll get personalized recommendations based on who you are and where you want to go in five integrated focus areas: exercise, food, sleep, stress and weight management.
Download the Coach by Cigna app for free today and you'll be able to:
Access recommended programs that fit your personal needs and goals
View motivational and instructional videos from a team of health coaches.
Keep on track with easy-to-follow programs and daily to-do lists.
To learn more about the many ways Cigna Medical Group inspires and empowers customers and fellow community members alike to take control of their health, visit CignaMedicalGroup.com.